Soka University Students from Japan Pay a Courtesy Call to the Department of Literature
Submitted by dennis on Fri, 2017-04-21 10:30
The Department of Literature hosted Soka University Students from Japan for a joint student leadership program. The program was designed to empower students explore, participate and enhance their leadership capabilities.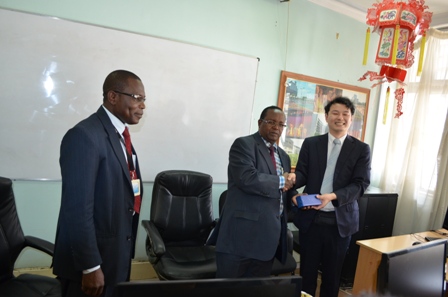 Principal CHSS, Prof.Njeru receiving a gift from Soka University representative.
In his address, The Principal, College of Humanities and Social Sciences Prof.Njeru noted that the visit was important since it provides an opportunity for the two institutions to learn best practices from each other. While praising the Soka University student from the Department of Literature, Prof.Njeru also said that "A partnership between the institutions departments would be very useful to not only the University of Nairobi but also to the entire country as well the general welfare of our local and global community."
Dean Faculty of Arts, Prof.Wasamba addressing Soka University Students.
Also, present in the visit included the Dean Faculty of Arts- Prof.Wasamba, Associate Dean Faculty of Arts- Prof.Rayya Timammy and the Chair Department of Literature- Dr.Masumi Odari.
From Right Dr.Misumi- Chair Department of Literature, Next, Prof.Rayya TimammyAssociate Dean Faculty of Arts and Soka University Students Listening to the Principals Speech.